After 25 seasons, The Simpsons has remained as one of the most cultural, topical and popular shows on television, and naturally, has hosted celebrity cameos of a very high caliber; here's a look at some of our favourites
By: Zak Edwards
Welcome to Jewish Top 10s, where we compile lists that highlight the best and the brightest of everything yehudi, from delicious recipes to funniest actors, to most obnoxious Jewish wedding songs.
By now, The Simpsons has become one of the most important shows in existence, a comedic institution in its own right. The show has had its ups and downs, negotiated changing comedy trends, and been on the verge of cancellation more times than we would all like to admit. By now, it is a staple of any upbringing, whether you were allowed or forbade to watch it, and phrases like "D'oh!" and "Eat my shorts!" are part of our speech and even in the dictionary.
But while the Simpsons family is nearly and necessarily the quintessential WASP family, they are surrounded by a myriad of Jewish people and celebrities. For being such a small town in whatever state, Springfield sees plenty of celebrities. Here's our favourite Jewish cameos and appearances in The Simpsons, our favourite people all done up in yellow.
10.
Thomas Pynchon
Episodes: "Diatribe of a Mad Housewife" and "All's Fair in Oven War"
While Pynchon's relationship to his own Jewish heritage is as dense and complex as any one of his novels, his cameo was absolute brilliance. The well known recluse writer took a page from J.D. Salinger and has kept completely off the public's radio. Rumour has it that only one person actually knows where he lives, his agent, and that is so they can send him his cheques. His Simpsons cameos have played off his recluse status, with one seeing him standing in front of a well lit sign with a bag over his head. He spoke some lines for his other appearance, but they were recorded over the phone.
9.

Stephen Jay Gould
Episode: "Lisa the Skeptic"
One of the great things about cameos in The Simpsons is they are not limited to celebrities in popular culture; they branch out beyond the usual recognizable film, television, and musical stars. One in particular was Stephen Jay Gould, the paleontologist and evolutionary biologist. He appears in "Lisa the Skeptic," where a skeleton convinces the town they are headed for the apocalypse. Gould loved the script and apparently opposed just one line, describing himself as the "world's most brilliant paleontologist." The show dedicated their 13th season finale to him just a couple of days after his death in 2002.
8.
The Cast of Cheers
Episode: "Fear of Flying"
Yes, we know the entire cast of Cheers is not Jewish, but a few of them are and their appearance is unforgettable. In "Fear of Flying," Homer is on a quest for a new bar after being kicked out of Moe's Tavern. He visits plenty of bars, including a lesbian bar, but also wanders into Cheers, where the cast is waiting for him. The sequence is absolutely amazing, start to finish, and uses cameos in the best way: surprisingly and irreverently.
7.
The Ramones
Episode: "Rosebud"
The Ramones showed up in Springfield to play for Mr. Burns' birthday. They appear for only a minute to play "Happy Birthday" for a clueless Mr. Burns (he orders the Rolling Stones killed after the performance), but deliver some great jokes. Oh, and they have some excellent crowd interactions, including "Up yours, Springfield!" and "Go to hell, you old bastard!" The rest of the episode plays off Citizen Kane in the most brilliant ways, but it's The Ramones making fun of Springfield that everyone remembers.
6.
Jon Lovitz
Episodes: Plenty!
Sure, Jon Lovitz isn't so much a cameo as a guest star, playing all sorts of memorable characters, but his impact on the show is paramount. His best recurring role is as Artie Ziff, the man Marge almost married, which adds a great history to Homer and Marge's relationship. Something The Simpsonsused to always do was show that, as dysfunctional as their family is, the marriage is surprisingly strong, and having Jon Lovitz' Ziff come in to show just how great Homer can be is always endearing. The story of Homer and Marge has changed throughout the years, the show isn't exactly a stickler for continuity, but Ziff always comes into play. Homer isn't the ideal guy, but his opposite is almost as awful, and we're glad Marge made the right decision, time and time again.
After 25 seasons, The Simpsons has remained as one of the most cultural, topical and popular shows on television, and naturally, has hosted celebrity cameos of a very high caliber; here's a look at some of our favourites
5.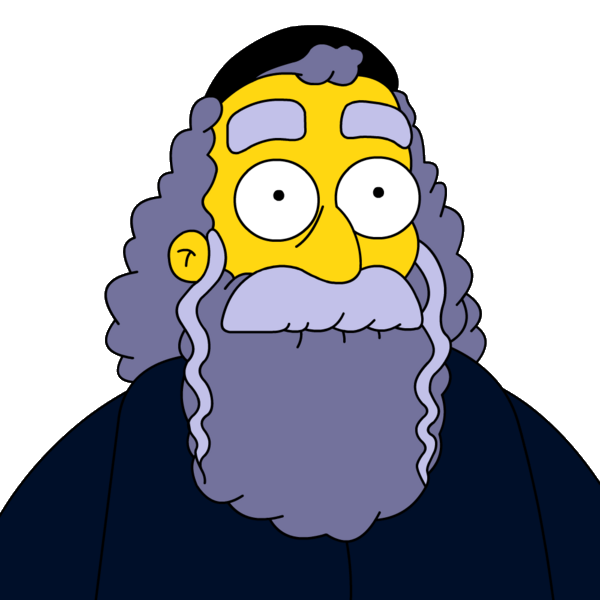 Jackie Mason
Episodes: Plenty!
Legendary comedian Jackie Mason appeared on the show multiple times, but one in particular made television history. His work on "Like Father, Like Clown" won him the Emmy for Outstanding Voice-Over Performance in 1992. In the episode, Krusty the Clown meets his father, Rabbi Hyman Krustofski and explores his Jewish heritage. The episode is considered one of the series' best, and one of the most endearing. Jackie Moore has reprised his role a few times, most recently in "At Long Last Leave" in 2012.
4.
Bette Midler
Episode: "Krusty Gets Kancelled"
Bette Midler's appearance had a couple of very Jewish things happen as well. It was a Krusty-centric episode, but also guest starred Elizabeth Taylor and marked the first appearance of Old Man Jewish, an unnamed character who pops up every once in awhile on the show. Midler was part of a group of celebrities that band together for a Krusty special after his show is cancelled. The episode is that perfect blend of desperation and glam that has come to define Krusty the Clown, and ends with Midler serenading Krusty with "The Wind Beneath my Wings," just like she did for Johnny Carson (who also appeared in the episode). Apparently Midler only agreed to the role if the show promoted her anti-littering campaign.
3.
Larry King
Episodes: "One Fish, Two Fish, Blowfish, Blue Fish" and "Sideshow Bob Roberts"
Larry King has appeared in two episodes of The Simpsons, "One Fish, Two Fish, Blowfish, Blue Fish" and "Sideshow Bob Roberts." King read part of the Bible on audio book in his first appearance, and was integral to Sideshow Bob winning the mayoral election in his second. But the best cameo involving Larry King and The Simpsons didn't even happen on their show, it happened on his. Larry King interviewed Bart in 1990, where Bart tried to convince King to help him with his poetry homework. King even does a dramatic reading of William Blake's "The Tygre."
2.
Stan Lee
Episodes: "I am Furious (Yellow)" and "Married to the Blob"
There could be no one more happy to have Stan Lee walk into his store than Comic Book Guy, until Stan "The Man" turns out to be a little crazy. Stan Lee's Simpson's appearance has him obsessed over comics just as much as the show's resident nerd, but having a little time distinguishing between fiction and reality. And when he tries to turn into the Hulk? Classic Simpsons. Stan Lee came back this year to help Comic Book Guy again, but this time as a figment of the character's imagination.
1.
Leonard Nimoy
Episodes: "Marge vs. the Monorail" and "The Springfield Files"
Spock himself has appeared in two episodes of The Simpsons, episodes usually considered some of the best of the series: "Marge vs. the Monorail" and "The Springfield Files." In both appearances, Nimoy's distinctive voice played off his most famous character and, much to the delight of fans, sent some tender homages to Star Trek and science fiction in general.